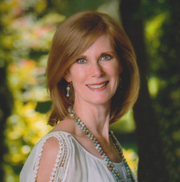 Originally from Florida, Adrienne often visited Atlanta throughout her childhood: the home of her mother and generations before her. Adrienne fell in love with the rolling hills, flowering trees, and southern charm. So, upon graduation from Clemson University, she moved to Atlanta and began her career at the HQ offices of The Coca-Cola Company in Midtown. Her experience as a Trainer in Consumer Affairs and as an Account Executive in Sales provided her with valuable skills that she uses daily in real estate negotiations, educating homebuyers and sellers, and effectively marketing her listings.

Adrienne has been working in Atlanta real estate with Chapman Hall Premier Realtors for over 10 years – specializing in the buying & selling of in-town properties. Her clients describe her as high-energy, experienced, honest, determined, super responsive…and an incredibly nice person! After living for many years in the northeast pocket of Buckhead, Adrienne, along with her husband and two teenage sons, currently resides in Underwood Hills — located in one of the city's most thriving & developing areas: The Westside. After 22 years in the neighborhood & selling over 25 houses there — she definitely calls it home.

A very active and connected community member, she regularly volunteers at her sons' schools and supports several nonprofit organizations including Atlanta Ballet, Ronald McDonald House Charities & Agape Youth & Family Center. In her spare time, you can find Adrienne on the tennis court, working out at the Buckhead YMCA, or out on the lakes enjoying north Georgia's perfect summers!